There is an often asked question that we hear from potential clients all the time: "How hard is it to build a website?"
There really isn't a clear answer, but the best we can do in one short thought is, what type of website?
There are many pieces that comprise a website of any kind. Web development keeps evolving and specializing. From your domain and hosting provider to the theme and design. The real differences come in when you begin to talk about functionality and customizability. You can go from "all in one options" to "100% custom" and a few stops in between. We'll address some of those options and the pros and cons in the following paragraphs to help you get a better idea of what it takes to build a website for your business or even personal use. Basically a crash course in website design from a web developer point of view!
All in one website builder platforms
It seems like every day there are more and more options for building a website, in this case, it's without the need to know any programming or coding skills.
Though there are many options, we're going to focus on three of the larger and more well-known platforms WIX and Squarespace, and ye ol' Google Site.
Originally these platforms were very restricted in their functionality but gained popularity because of their true drag and drop design ease. They were also all visual builders, meaning they had a WYSIWYG (What You See Is What You Get) editor and module interface that gave anyone the accessibility to become a web designer and build a basic website.
They all also keep you only on the front end of the site where you're not worrying about web hosting, web content accessibility guidelines, server databases, or FTP access. It's all taken care of for you. You pick your domain name, add content or a blog post, link to social media and it just works. Instant developer status, all with a decent user experience on your and the site visitors end.
Though their functionality and offerings have expanded over the years into more practical sites that function well in modern browsers and include eCommerce integrations, they still are very restricted in your ability to customize the code of your site, outside of the CSS. If you don't know what that is, these may be good options for your first site.
It's a bit of a tradeoff… Google sites are easier to SEO but aren't great at Ecom, however, Wix and Squarespace are better at eCommerce but a bit more frustrating when it comes to SEO. There are plugins, but they are barebones basic and don't allow you to tweak core site code. Though all these options have a decent speed for a low number of website visitors, you run into problems at higher levels of traffic. You're unable to make choices about your hosting like you would be if you built your site on other platforms like a WordPress website, where you would have the option for a dedicated server or shared hosting.
Website platforms with more customization
The next level of platform websites are companies like Shopify or BigCommerce where they specialize in one specific verticle of website building and offer a premium level of customization with a bit of a longer learning curve. If you're looking to build an online store, this is a great option.
They are still restricted in some areas, which makes Search Engine Optimization more difficult, but they offer great integrations for eCommerce or other special needs. If your company has a product to sell and like being able to tweak and tinker and also test in-depth sales processes or customize shipping and payment options, these are where you should review and compare your options.
There seems to be a whole host of new tools and next-tier platforms that are making it easier for anyone to build a site, but you may want to work with a specialist or designer to make your site memorable. Also, be ready to shell out some serious cash for plugin after plugin to get your site working the way you want it to!
Self-hosted website solutions
Finally, we get to the top of the customization mountain. the self-hosted open-source website options. We're talking WordPress, Drupal, and Joomla-type choices. Selections that need web hosting services and a bit of developer knowledge to get the project going.
The most common of them is WordPress which we use in-house to build all of our client sites. It powers 1/3 of the internet and has evolved into a great responsive design tool, so it's a great option to go with. Packed with features and plugins for just about anything, WordPress allows you to create and optimize a website exactly how you want it.
Use a builder or code it from scratch
WordPress has evolved over the years and there are now many theme and WYSIWYG builder options as well as any plugin you can imagine to help designers build visually. Though you still need some know-how when it comes to servers and databases, it's nothing you can't learn over a few months (to years), and the expansion to Responsive Design also makes your site look great on any screen.
Realistically, if you have a domain name, you could get a site up in a few hours if you were well versed, but if you're starting out cold with just some plans and no knowledge, this may not be your best option.
So how hard is it to build a website?
That all comes down to your timeline and threshold for airing knowledge. In this day and age, you or your business need to have an email address and an online presence. So anything is better than nothing, but anything isn't always the best.
As a business owner, if you're willing to put in the work, the open-source options are the best all-around choices for flexibility and customization.
If you have some extra time and want to sell something in an online store and don't mind a steep price tag for simplicity, Shopify is a great option with decent web hosting.
If you like to tinker and don't mind flying blind, SquareSpace is the best all-around option for content management and basic ecom with custom domain names.
If you just want a gorgeous site that you don't have to worry about anything… web design, web dev, building an online store, web host, the theme, upkeep, setting up Google analytics… and more. Just let us know, we're WordPress experts and have recommendations on other platforms as well! We'd love to build your next professional website.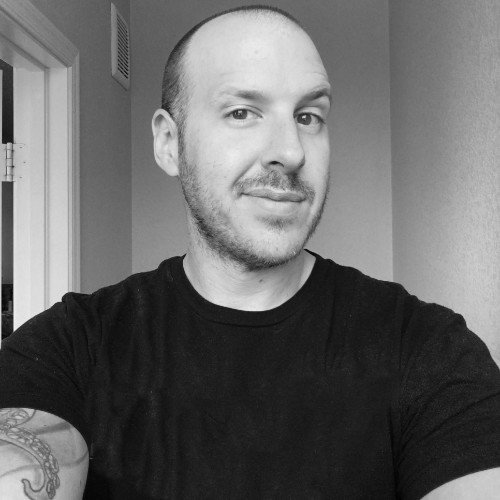 For 15+ years now Adam has helped business brand, plan, and grow.
With a background in media buying and specializing in data-driven marketing he founded the Painted Brick Digital Agency to act as your in-house marketing and advertising department.
"Cookie cutter doesn't work in a world that is constantly evolving."